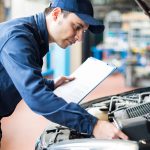 An authorised garage is the one to choose for your vehicle's MOT in High Lane. The MOT test is necessary. While some may feel it is an inconvenience, it is necessary. The purpose of the MOT test is to ensure that the cars on the road are safe to be so. It also tests the vehicle's emissions to ensure that they are within the legal limits. If your vehicle needs its MOT test done in the near future, find a reliable garage to conduct the test. It is a thorough test, and when it is complete, you will have the peace of mind that your vehicle is both safe and legally compliant.
There is an extensive checklist of the components on a vehicle. In High Lane, the MOT test includes checks of the vehicle's bodywork, its tyres, suspension, safety belts and more. If you need a garage that offers a professional and thorough MOT test, bring your vehicle to our garage. We offer our expert services, of which the MOT test is one. We also offer an interactive online booking system for your convenience. Schedule a day and time for your MOT without leaving your home. We do recommend that your car has a service prior to the MOT test. This way, any problems which might cause your vehicle to fail its test can be identified and rectified before the actual test.
For a professional MOT in High Lane, remember Premier Garage Services. As an independent service and repair centre, we can be regarded as your one-stop garage for all your car's services, and this includes the MOT test. For more details about how we can assist you, contact Premier Garage Services today. If for some reason your vehicle fails the MOT test, we are happy to provide a quote for the necessary repair work. We will not commence with any work until we have your explicit permission. Once the repairs are complete, we can re-test your vehicle, free of charge. Our prices are highly competitive, and you can rely on our expertise and professionalism.