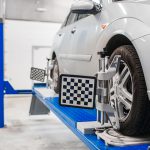 A professional garage in Bramhall with a qualified team that you can trust is essential for your car. Just like you wouldn't purchase a laptop from an unrecognised dealer, so you shouldn't trust an unknown garage. Your car will need regular servicing. It may, at some point, needs repairs, new tyres and MOT testing. It would be ideal to choose a garage that offers all the services you'll need, and at great prices. Bring your car to our garage. We think you'll be pleased with the number of different expert services we offer. We also have an expert team of highly trained technicians, available to provide the service you need for your car.
From tyres, MOTs, servicing, repairs, air-conditioning repair and maintenance and more, we can assist. In Bramhall, our garage is highly regarded in the area. We also have a large number of repeat clients who continue to use our services for every aspect of their vehicle's needs. An RAC approved garage, we are also an independent service and repair centre. You can rely on us for any type of service or repair for your car. We make use of state of the art diagnostics tools to assist our technicians to locate the cause of the problem of a vehicle. And, as an independent garage, we can service your car without voiding its warranty. We can also stamp your service book.
For a professional garage in Bramhall that will both meet and surpass your expectations, remember Premier Garage Services. We offer an interactive online booking service via our website. This is great if you want to book your MOT test, or if you would like to order your car's new tyres online. For more information about the range of services our garage provides, contact us today. We will also gladly offer any questions you may have. You'll find that our pricing is competitive, and we believe we are the best garage for your car. Why not pay us a visit today?