MOT Testing in Stockport
---
Class 4, 5 and 7 MOT Testing at Premier Garage Services, in Great Moor, Davenport, Bramhall, Wilmslow and Hazel Grove, Stockport.

Your Premier MOT Testing Station
---
According to UK legislation, all vehicles aged three years or over must undergo a yearly MOT Test.
The MOT Test covers a range of checks to make sure that every aspect of your car meets the required standards. Fortunately, whatever the outcome, Premier Garage Services are on hand to get you and your vehicle back on the road.
If your car initially fails it's MOT Test; you can have it retested for free at Premier Garage Services. Many issues found during your car MOT test can be rectified while you wait.
What's Checked During an MOT Test?
During an MOT Test, the examiner will check many areas of the vehicle, including bodywork, emissions and safety features. A few of the items that are checked are shown below.
Lighting and Signalling
Equipment (Inc fog lamps & reversing lights)
Steering (including suspension)
Brakes
Tyres and Road Wheels
Seat Belts
Bumpers
Body, Structure and General Items
Drivers View of the Road
Exhaust, Fuel and Emissions
Noise suppression material
Undertray security
Emission control equipment.
Fluid leaks - engine and transmission
Engine malfunction indicator lamp
Diesel particulate filter (DPF) tampering

You'll be notified of any charges prior to repair work being undertaken.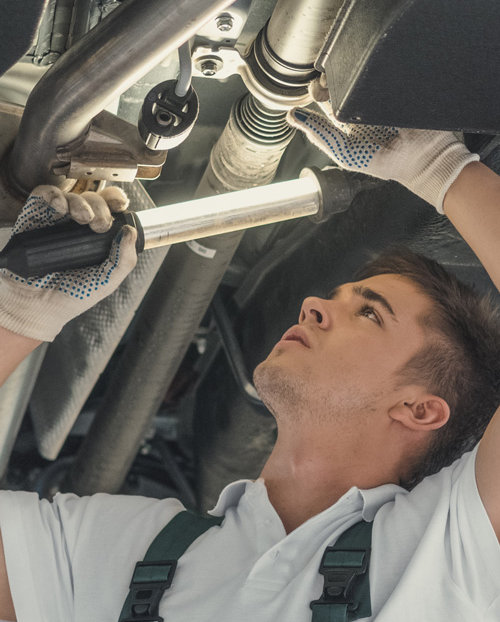 What to do if Your Car Has Failed its MOT Test
You'll need to address the issues listed on the certificate and carry out any repairs before having your car retested. We'll provide a quote for any repairs - and upon your approval, we'll get you driving again in no time.
Class 4, 5 and 7 MOT Testing Starting at £49.95 - Book Online Today
Book your MOT online today using our live, 24/7 interactive booking system; it's a quick and straightforward way to find the time and date that suits you best.
Enter your vehicle registration number to get started and browse through our full availability. You can submit your booking with a handful of essential details, and no payment will be taken online. Our interactive system will also be able to send out MOT reminders for the following year, book online and never miss an MOT again with Premier Garage Services in Stockport.
Vehicles We Service
---
Alfa Romeo
Audi
BMW
Citroen
Dacia
Fiat
Ford
Honda
Hyundai
Jaguar
Jeep
Land Rover
Lexus
Mazda
Mercedes
Mini
Mitsubishi
Nissan
Peugeot
Renault
Rover
Seat
Skoda
Toyota
Vauxhall
Volvo
VW