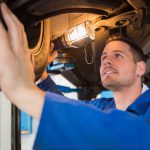 Use an established and experienced MOT garage in Bramhall to ensure the best results. We understand that the MOT test can cause concern. The MOT test is necessary and law requires that it annually for vehicle's 3 years and older. A registered MOT garage using authorised equipment is the garage to use for the MOT test. We are one such garage. With our many years of experience and skilled technicians, we offer an MOT service that meets and exceeds all your expectations.
The MOT test checks a long list of components of your car. In Bramhall, an MOT garage has the authorisation and registration to do so. The list includes components such as the steering, brakes, indicators, bodywork and more. The list is extensive. It is done to ensure that your vehicle is safe to drive. If your vehicle fails the MOT test, we can assist with repairing your vehicle. Your vehicle can then be scheduled for another test, free of charge. We will not proceed with any repairs until you have seen the quote and give us the go-ahead or the repairs. Our prices are affordable as you will see on the quote. Our service is excellent and we take great pride in our excellent reputation for excellent customer service.
Choose an MOT garage in Bramhall for excellent service and care. For more information about our MOT garage, we invite you to contact Premier Garage Services today. We can also assist you with other excellent-quality services. These include new or replacement types, air-con repair and service as well as repairs, servicing and maintenance of your vehicle. Consequently, ensure your vehicle passes the MOT test and use an MOT garage with an excellent reputation. Let us assist you keep your car in impeccable condition. As such, you will have peace of mind, and a safe to drive vehicle. Furthermore, we have been providing our expert services to all our clients for many years, many of whom return for our excellent prices and excellent services.