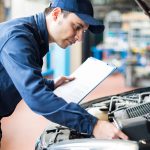 MOT Testing in Handforth is a specialised field. A registered tester at an authorised garage must complete the test. The MOT test is not a quick, cursory glance over your vehicle. On the contrary, it is an in-depth check of various parts of your vehicle. A check to ensure that it is roadworthy, meets legal emission requirements and is safe to drive. Therefore, all vehicles older than 3 years of age need an annual MOT test. Hence, if your vehicle needs affordable MOT testing, remember Premier Garage Services.
We offer a range of expert services for your car. In Handforth, MOT testing is one of our expert services. Our highly skilled and experienced technicians complete the test. You can rest assured that the MOT testing we provide is of the best. During this test, we will check many areas of the vehicle. The check includes the bodywork, emissions and safety features of your car. Further, other areas include steering, brakes, tyres and more. Should your vehicle fail the MOT test the first time around, we can have it retested for free. As such, we can rectify the aspects of your vehicle that did not pass the test, while you wait. We'll provide a quote for any necessary repair work. Moreover, you can rest assured that we will not repair your vehicle until we have your approval.
MOT testing in Handforth begins with an online booking. We offer an interactive online booking system for your convenience. Our MOT testing prices start at £49.95. For more details about our MOT testing services, contact Premier Garage today. Moreover, our booking system can also send you a reminder for the following year's MOT test. With us, you will never forget your MOT test again! As such, use the same booking system should you need any of our other services. You can make a booking for your vehicle's servicing, or if you would like to order your tyres as well. Moreover, as an independent service and repair centre, you can rely on us. We're your one-stop garage for MOT testing, servicing, tyres and more.