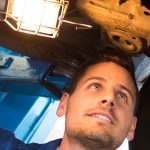 MOT testing in Adlington doesn't have to be a time-consuming inconvenience. You just need to bring your car to us. We have everything to keep your car in top operating condition under one roof. For your convenience, you can book your MOT test online at our website. You'll find a selection of available days and times from which to choose. We also offer a free collection service. Our fees are competitive but our service is superior. We do Class 4, 5, and 7. If you want to know for sure your vehicle is there, go to the location on our website for MOT testing and key in your VIN in the designated box. That will answer the question of availability and since you are already on the page, make an appointment that is convenient to you.
After your first MOT, we can put you in our customer database for updates and reminders of upcoming annual MOTs. For our customers in Adlington, MOT testing, service and repairs is done at our garage. Save some time and schedule your MOT and servicing at the same time. In the event your car fails the MOT, we'll check for the cause and evaluate the needed repairs. We will give you a complete cost estimate including parts and labour. Review it and ask all the questions you need answers to. Only then will we make the repairs. That is true for all routine maintenance and repairs carried out in our garage.
You can trust our experience and expertise when MOT testing in Adlington. We'll check the extensive list of items on your vehicle during an MOT and within the areas of emissions, safety features and bodywork. We can catch many violations that fall into safety features and bodywork before the actual MOT. Many are easily and quickly corrected. We'll replace any parts that need to be. Unlike some garages, we don't take advantage of the situation and charge premium prices. Contact Premier Garage Services for MOT testing. Our technicians are among the very best and our customer service is individualised.