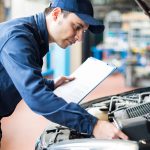 Ensure compliance and safety with our premier services for MOT in Poynton. We offer a range of MOT, servicing, wheel alignment, repairs and diagnostics for vehicles of all makes and models. As a local, independent garage, we are proud of our reputation for 100% focus on customer satisfaction. We are a one-stop-shop for various auto services. Being a local service, we maintain strong ties in the communities we serve. We understand how you feel when you hand over your vehicle to us. It's a gesture of immense trust and confidence in our facilities and personnel. Our highly trained, experienced and qualified technicians can help to swiftly diagnose and fix issues with minimum inconvenience. We also provide ourselves with our affordable rates.
For car owners in Poynton, MOT services provided by our garage help you to stay in compliance with the automobile regulations. It's important to select the right garage for this service. There may be many in the area that offers these services, but all of them may not provide the same level of quality. Many vehicle owners make the mistake of selecting a garage that provides cheaper MOT services but this could be damaging in the long run. Some of the things you need to look for in a good MOT service provider include experience. They must have staff who are familiar with the process, no matter how long the garage itself has been in business.
Another important aspect to look for an MOT in Poynton is fair pricing.  Pick a service that doesn't boost up prices beyond the average, but be wary of excessively cheap rates too. Contact Premier Garage Services for a realistic quote. Compare prices to get the one that fits your budget. You may or may not require a servicing at this point. Something else to red flag in your quest is how well or badly organised the premises are. If it looks chaotic, messy and dirty, with tools and equipment scattered all over the place, puddles of oil and water on the floor, and a coating of grease on the furniture, this may not be the right place to give you a professional result.